This Little Art by Kate Briggs is one of the best nonfiction books I've read in ages. I only speak English, and have no worthwhile opinions about translation or languages, but I was really taken with it for how she characterizes enthusiasm for reading and the relationships individuals have with other writers' words. I was won over pretty earlier on when I saw this part. (Earlier she had discussed reading dragon stories to her children and whether or not to use a dragon-y voice):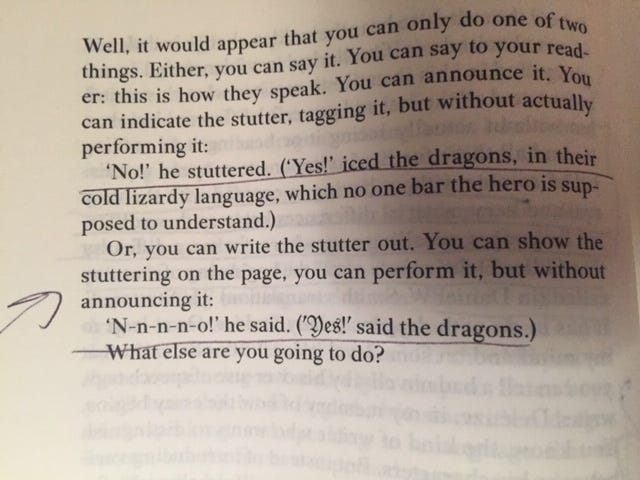 It reads like she had fun writing it. It is playful and casual and her intelligence radiates from the pages. Loved this book!!
It was published by Fitzcarraldo Editions, a London-based indie with a number of smart titles. (Another one of theirs I'm constantly recommending, is my friend Dan Fox's Pretentiousness.)
Part of the reason I picked it up is I read The Vegetarian by Han Kang earlier this month and didn't quite connect with it. The novel is interesting — it reminds me a little of Border, a film I find impressive, but also not for me— but I am bewildered by the overwhelming praise it received, while also unsure what it was that I found missing—or whether I missed something (it's probably me.) I don't doubt it resonated with others, but I can't pinpoint what I found lacking either.
#
My latest column for Filmmaker magazine is out from behind the paywall. And that means I have an excuse to post this image:
It is about the research team that commissioned those Tumblr-famous paintings and their influence on film and other culture. The column largely draws on Fred Scharmen's wonderful book Space Settlements. And definitely check out the documentary series by Brett Ryan Bonowicz called Artist Depiction, which is on Amazon Prime and includes interviews with the artists Rick Guidice and Don Davis (So enjoyable and relaxing to watch because, I mean, imagine being a hippie in Northern California in the 70s, who can make a living off this trippy space art and hang out with Carl Sagan from time to time.)
I'm sorry I'm not in New York to see the Piotr Szulkin retrospective at Lincoln Center —a filmmaker I'm unfamiliar with, and I'd like to correct that eventually. [According to the NYT: "Part of the premise of this series is that the dystopian movies of the early 1980s ("Blade Runner," "1984") found a mirror image in the Communist bloc through the films of this Polish director, who died in 2018. But Film at Lincoln Center also notes that the story is more complicated than that…."]
Another good book I read recently was Health Justice Now by Timothy Faust, which is also often quite funny despite being about one of the least funny possible subjects. It is a good introduction to how much of a mess the current system is, how simple the solution is, and the tactics necessary to make the solution a reality.
Thanks for reading.